They shall grow not old, as we that are left grow old
567 Guests, 13 Users (3 Hidden)
Hamish Seggie, Journeyman, MARS, FSTO, Chanada, Spencer100, hkhero2019, exgunnertdo, cavalryman, Fraz
Total Members: 76,365
Total Posts: 1,482,366
Total Topics: 72,426
Total Categories: 13
Total Boards: 124
The Royal Montreal Regiment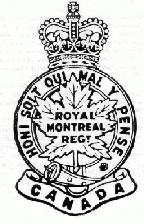 ---
Armorial Description
A mapie leaf inscribed ROYAL MONTREAL REGT within the Garter and motto HONI SOIT QUI MAL Y PENSE surmounted by the Crown and resting on a scroll bearing the word CANADA.
---
Official Abbreviation: RMR

Motto: Honi Soit Qui Mal Y Pense (Evil to he who evil thinks)
---
Battle Honours (25)
First World War
YPRES, 1915,'17
Arleux
Gravenstafel
Scarpe, 1917, '18
ST. JULIEN
Hill 70
FESTUBERT, 1915
PASSCHENDAELE
MOUNT SORREL
AMIENS
SOMME, 1916
DROCOURT-QUTANT
Pozieres
Hindenburg Line
Thiepval
CANAL DU NORD
Ancre Heights
Pursuii To Mons
Arras, 1917,'18
France and Flanders, 1915-18
VIMY, 1917
Second World War
CALAIS, 1944
LEOPOLD CANAL
THESCHELDT
NORTH-WEST EUROPE, 1944-1945
Colonel-in-Chief: None

Authorized Marches:
Quick March: Ca Ira

Regimental Headquarters:
4625 St. Catherine Street West
Westmount, Quebec
H3Z 1S4

Location of Sub Units: Westmount, Quebec

Alliances:
The Prince of Wales' Own
Regiment of Yorkshire
Imphal Barracks
York, England
---
Order of Precedence: 45
---
Options
Infantry Regiments page.
Go back to the Army home page.
September 18
1759:
Quebec surrendered to the British, following Wolfe's victory at the Plain of Abraham on 13 September, sounding the death knell for a French presence in Canada.
1931:
Japanese invade Manchuria, occupying Mukden, Changchun and Kirin (Mukden Incident)
1944:
SAN FORTUNATO, effective dates for battle honour begin (to 20 Sept 44)
1944:
Several "Canloan" officers serving with the 1st Air Landing Brigade are killed in the defense of the recently captured bridgehead at Arnheim, Holland.
» Download the iPhone/iPad Military History app! «