They shall grow not old, as we that are left grow old
573 Guests, 14 Users (3 Hidden)
GeorgeBarr, Dawmac, Old Sweat, Spencer100, Good2Golf, JRBond, hkhero2019, Dolphin_Hunter, Attie3, tree hugger, JoeyTan514
Total Members: 76,364
Total Posts: 1,482,365
Total Topics: 72,426
Total Categories: 13
Total Boards: 124
The Black Watch (Royal Highland Regiment) of Canada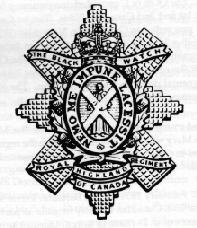 ---
Armorial Description
Superimposed upon a diamond cut star of the Order of the Thistle, a wreath of thistles; within the wreath, an oval inscribed NEMO ME IMPUNE LACESSIT; within the oval, on a recessed seeded ground, St. Andrew and Cross; above the oval, a scroll inscribed THE BLACK WATCH; superimposed upon the scroll surmounting the ovel, the Crown; below the oval, two scrolls, the upper inscribed ROYAL HIGHLAND REGIMENT, the lower bearing the inscription OF CANADA.
---
Official Abbreviation: RHC

Motto: Nemo Me Impune Lacessuit (No one provokes me with impunity)
---
Battle Honours
Early History
First World War
Ypres, 1915, '17
VIMY, 1917
Gravenstafel
Arleux
ST. JULIEN
Scarpe, 1917, '18
Festubert, 1915
Hill 70
MOUNT SORREL
PASSCHENDAELE
SOMME, 1916
AMIENS
Pozieres
Drocourt-Queant
Flers-Courcelette
Hindenburg Line
Thiepval
CANAL DU NORD
Ancre Heights
PURSUIT TO MONS
Ancre, 1916
FRANCE AND FLANDERS, 1915-1918
ARRAS, 1917, '18
Second World War
BOURGUEBUS RIDGE
Woensdrecht
FAUBOURG DE VAUCELLES
South Beveland
VERRIERES RIDGE -- TILLY-LA-CAMPAGNE
WALCHEREN CAUSEWAY
THE RHINELAND
Falaise
THE HOCHWALD
Clair Tizon
Xanten
FORTE DE LA LONDE
The Rhine
Dunkirk, 1944
Groningen
Antwerp-Turnhout Canal
OLDENBURG
THE SCHELDT
NORTH-WEST EUROPE, 1944-1945
---
Order of Precedence: 4
---
Options:
---
Go back to the Infantry Regiments page.
Go back to the Army home page.
September 18
1759:
Quebec surrendered to the British, following Wolfe's victory at the Plain of Abraham on 13 September, sounding the death knell for a French presence in Canada.
1931:
Japanese invade Manchuria, occupying Mukden, Changchun and Kirin (Mukden Incident)
1944:
SAN FORTUNATO, effective dates for battle honour begin (to 20 Sept 44)
1944:
Several "Canloan" officers serving with the 1st Air Landing Brigade are killed in the defense of the recently captured bridgehead at Arnheim, Holland.
» Download the iPhone/iPad Military History app! «