They shall grow not old, as we that are left grow old
532 Guests, 14 Users (3 Hidden)
Spencer100, hkhero2019, FSTO, exgunnertdo, cavalryman, Fraz, Czech_pivo, Fred Herriot, AngelineWo, RaphaelMau, jan31488
Total Members: 76,365
Total Posts: 1,482,365
Total Topics: 72,426
Total Categories: 13
Total Boards: 124
Le Regiment de la Chaudiere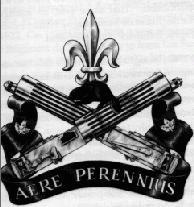 ---
Armorial Description
Above crossed machine guns, a beaver, surmounted by a fleur-de-lis; below and partly encircling the machine guns, a scroll bearing the motto AERE PERENNIUS with a small maple leaf on each end of the scroll.
---
Official Abbreviation: R de Chaud

Motto: Aere Perennius (Truer than steel)
---
Battle Honours (19)
Second World War
DEBARQUEMENT EN NORMANDIE
FALAISE
L'ESCAUT
LA RHENANIE
CARPIQUET
FAUBOURG DE VAUCELLES
BOULOGNE, 1944
LE HOCHWALD
EMMERICH-HOCHELTON
ZUTPHEN
Nord-Ouest de l'Europe, 1044-1945
Caen
Cote de Bourguebus
La Laison
Chambois
Calais, 1944
Poche de Breskens
Plaine du Waal
Le Rhin
---
Order of Precedence: 19
---
Options:
---
Go back to the Infantry Regiments page.
Go back to the Army home page.
September 18
1759:
Quebec surrendered to the British, following Wolfe's victory at the Plain of Abraham on 13 September, sounding the death knell for a French presence in Canada.
1931:
Japanese invade Manchuria, occupying Mukden, Changchun and Kirin (Mukden Incident)
1944:
SAN FORTUNATO, effective dates for battle honour begin (to 20 Sept 44)
1944:
Several "Canloan" officers serving with the 1st Air Landing Brigade are killed in the defense of the recently captured bridgehead at Arnheim, Holland.
» Download the iPhone/iPad Military History app! «