They shall grow not old, as we that are left grow old
558 Guests, 18 Users (2 Hidden)
FSTO, Fred Herriot, AngelineWo, RaphaelMau, jan31488, renemongeau, milnews.ca, stoker dave, Baden Guy, Gunplumber, kkwd, Good2Golf, GeorgeBarr, Dawmac, Old Sweat, Spencer100
Total Members: 76,365
Total Posts: 1,482,365
Total Topics: 72,426
Total Categories: 13
Total Boards: 124
The Lincoln and Welland Regiment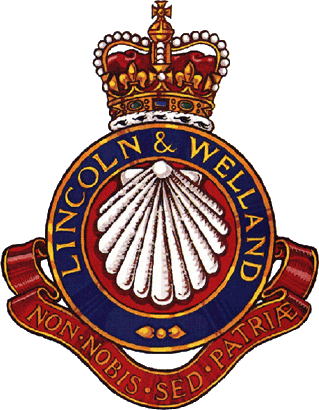 ---
Armorial Description
Within an annulus bearing the words LINCOLN & WELLAND, an escallop; below, a scroll inscribed NON NOBIS SED PATRIAE; the whole surmounted by the Crown.
---
Official Abbreviation: Linc Welld R

Motto: Non Nobis Sed Patriae (Not for ourselves, but for our country)
---
Battle Honours (26)
First World War
YPRES, 1915, '17
Festubert, 1915
SOMME, 1916
ARRAS, 1917, '18
Hill 70
AMIENS
Hindenburg Line
PURSUIT TO MONS
Second World War
FALAISE
Falaise Road
THE LAISON
Chambois
The Seine, 1944
MOERBRUGGE
THE SCHELDT
Breskens Pocket
THE LOWER MAAS
KAPELSCHE VEER
THE RHINELAND
THE HOCHENWALD
Veen
TWENTE CANAL
Friesoythe
Kusten Canal
Bad Zwischenahn
NORTH-WEST EUROPE, 1944-1945
---
Order of Precedence: 10
---
Options:
---
Go back to the Infantry Regiments page.
Go back to the Army home page.
September 18
1759:
Quebec surrendered to the British, following Wolfe's victory at the Plain of Abraham on 13 September, sounding the death knell for a French presence in Canada.
1931:
Japanese invade Manchuria, occupying Mukden, Changchun and Kirin (Mukden Incident)
1944:
SAN FORTUNATO, effective dates for battle honour begin (to 20 Sept 44)
1944:
Several "Canloan" officers serving with the 1st Air Landing Brigade are killed in the defense of the recently captured bridgehead at Arnheim, Holland.
» Download the iPhone/iPad Military History app! «