They shall grow not old, as we that are left grow old
569 Guests, 14 Users (3 Hidden)
GeorgeBarr, Dawmac, Old Sweat, Spencer100, Good2Golf, JRBond, hkhero2019, Dolphin_Hunter, Attie3, tree hugger, JoeyTan514
Total Members: 76,364
Total Posts: 1,482,365
Total Topics: 72,426
Total Categories: 13
Total Boards: 124
The Cameron Highlanders of Ottawa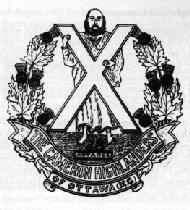 ---
Armorial Description
Within a wreath of thistles and maple leaves, the figure of St. Andrew and Cross standing on a mount charged with a plaque inscribed ADVANCE: on the lower bend of the wreath two scrolls, the upper inscribed THE CAMERON HIGHLANDERS, the lower OF OTTAWA (MG).
---
Official Abbreviation: CH of O

Motto: Advance Battle Honours (37)

Early History

First World War
Mount Sorrel
AMIENS
SOMME, 1916
Scarpe, 1918
Ancre Heights
DROCOURT-QUEANT
Ancre, 1916
HINDENBURG LINE
ARRAS, 1917,'18
CANAL DU NORD
VIMY, 1917
VALENCIENNES
YPRES, 1917
Sambre
PASSCHENDAELE
France and Flanders, 1916-18
Second World War
NORMANDY LANDING
THE SCHELDT
CAEN
Breskens Pocket
CARPIQUET
The Rhineland
The Orne
Waal Flats
BOURGUEBUS RIDGE
THE HOCHWALD
Faubourg de Vaucelles
THE RHINE
FALAISE
Zutphen
Quesnay Wood
Deventer
The Laison
Leer
BOULOGNE, 1944
NORTH-WEST EUROPE, 1944-1945
---
Regimental Headquarters:
The Drill Hall
Cartier Square
Ottawa, Ontario
K1A 0K2
---
Order of Precedence: 27
---
Options:
---
Go back to the Infantry Regiments page.
Go back to the Army home page.
September 18
1759:
Quebec surrendered to the British, following Wolfe's victory at the Plain of Abraham on 13 September, sounding the death knell for a French presence in Canada.
1931:
Japanese invade Manchuria, occupying Mukden, Changchun and Kirin (Mukden Incident)
1944:
SAN FORTUNATO, effective dates for battle honour begin (to 20 Sept 44)
1944:
Several "Canloan" officers serving with the 1st Air Landing Brigade are killed in the defense of the recently captured bridgehead at Arnheim, Holland.
» Download the iPhone/iPad Military History app! «