They shall grow not old, as we that are left grow old
655 Guests, 30 Users (2 Hidden)
stilicho, Ludoc, Simian Turner, medicineman, methionine, PPCLI Guy, runormal, quadrapiper, Colin P, Dimsum, wx_watcher, Kirkhill, tomgoetz, Ningen, Zulopol, Avro, krimynal, LeathaScut, SeaKingTacco, Enirak132, MJP, MilEME09, StarFury, Kyle Burrows, GPKJerry, TrailRunner, tomydoom, DDreadz
Total Members: 48,533
Total Posts: 1,264,843
Total Topics: 68,088
Total Categories: 14
Total Boards: 119
The Lake Superior Scottish Regiment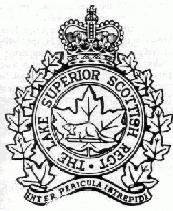 ---
Armorial Description
A maple leaf charged with a beaver, encircled by an annulus, inscribed THE LAKE SUPERIOR SCOTTISH REGIMENT and surmounted by the Crown; below a scroll inscribed INTER PERICULA INTREPIDI; on each side of the annulus, six maple leaves.
---
Official Abbreviation: Lake Sup Scot R

Motto: Inter Pericula Intrepidi (Fearless in the face of danger)
---
Battle Honours (34)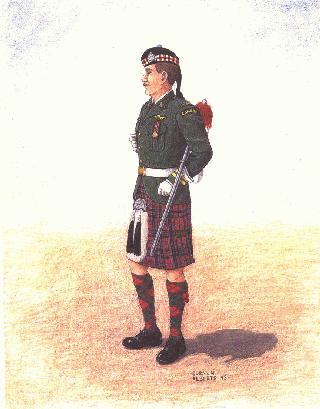 First World War
YPRES, 1915
YPRES, 1917
PASSCHENDAELE
Fustubert, 1915
AMIENS
MOUNT SORREL
Scarpe, 1918
SOMME, 1916
Drocourt-Queant
Flers-Courcelette
HINDENBURG LINE
Ancre Heights
Canal du Nord
Arras, 1917
Arras, 1918
CAMBRAI, 1918
VIMY, 1917
VALENCIENNES
HILL 70
France and Flanders, 1915-1918
Second World War
FALAISE
THE HOCHWALD
Falaise Road
Veen
The Laison
TWENTE CANAL
Chambois
FRIESOYTHE
THE SCHELDT
KUSTEN CANAL
THE LOWER MAAS
Bad Zwischenahn
THE RHINELAND
NORTH-WEST EUROPE, 1944-1945
---
Tartan: MacGillivary

Authorized March: The Highland Laddie

Regimental Headquarters:
The Armoury
317 Park Ave.
Thunder Bay, Ontario
P7B 1C7
---
Honourary Colonel: Colonel P.R. "Jerry" Cook,OStJ,CD
Honourary Lieutenant-Colonel: Lieutenant-Colonel Catherine Paterson,DStJ,DStL
Commanding Officer: Major Donald P.M. Strang,CD
Regimental Sergeant-Major: Master Warrant Officer David J. Coffey,CD
---
The Lake Superior Scottish Regiment perpetuates the following Regiments:

The Provisional Battalion of Rifles
96th District of Algoma Battalion of Rifles
96th Algoma Rifles
96th The Lake Superior Regiment
52nd, 94th and 141st Battaions, CEF
The Lake Superior Regiment (Motor)
---
Brief History
The Regiment was raised 30 Apr 1885 and designated The Provisional Battalion of Rifles at Port Arthur, Ontario. It was redesignated the 96th District of Algoma Battalion of Rifles 29 Apr 1887. On 3 Jul 1904 is was renamed the 96th Lake Superior Regiment and redesignated The Lake Superior Regiment 15 Mar 1920. 26 Jan 1943 it became The Lake Superior Regiment (Motor) and on 29 Jun 1949 it was granted approval to become "Scottish", being called The Lake Superior Scottish Regiment (Motor), and 11 Apr 1958 it adopted its present title, The Lake Superior Scottish Regiment. During World War I it sent drafts of over 400 soldiers each to the 8th and 28th Battalions, CEF, raised the 52nd, 94th, and 141st Battalions, the latter two being reinforcement Battalions for "The Fighting 52nd".
---
The LSSR's Colours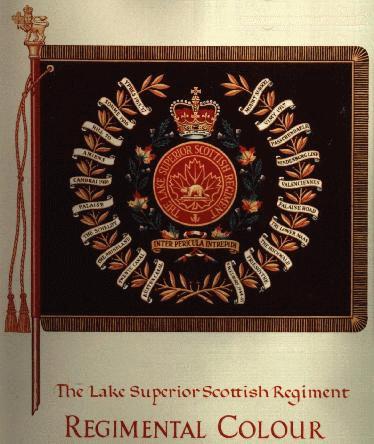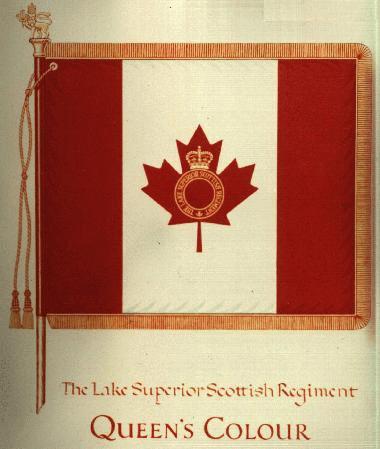 ---
Order of Precedence: 33
---
Options:
---
Go back to the Infantry Regiments page.
Go back to the Army home page.
March 6
1831:
Albany New York - Born on this date Philip Henry Sheridan, General, Union Army, US Civil War.
1836:
Mexican General Santa Anna and his large army slaughter Davy Crockett and rest of 189 Texas volunteers after 13 day siege. General Sam Houston and his Texans capture Santa Anna 46 days later, with battle cry, Remember the Alamo.
1858:
Lance-Corporal Goat of the 9th Lancers won the Victoria Cross for his persistent efforts to recover the body of an officer killed in combat during the Indian Mutiny. To do so, Goat had to dismount and work under enemy fire to hoist the body over his horse. His first attempt had to be abandoned due to the approach of enemy cavalry, but he finally succeeded in retrieving the body for proper burial.
1902:
Queen Alexandra's Royal Naval Nursing Service was established.
1916:
During fierce fighting near the formidable Hohenzollern Redoubt on the Western Front, a shell blast severed the leg of Corporal Cotter, East Kent Regiment, just below the knee. He was also wounded in both arms. Despite his appalling injuries, Cotter managed to make his way to a large crater some fifty yards distant occupied by men from his battalion, and took charge of them, organising the successful defence of the crater against a German counter-attack. For two hours he controlled the defenders' fire, changed their positions to deal better with fresh attacks, and only allowed his wounds to receive the most improvised of dressings. It was fourteen hours before he could be safely evacuated to a dressing station, and he soon afterwards died of his wounds. He was awarded a posthumous Victoria Cross.
1944:
After over 30 hours of hunting, U-744 is finally sunk when forced to the surface by the combined efforts of HMC Ships CHAUDIERE, GATINEAU, ST. CATHERINE'S, CHILLIWACK and FENNEL as well as HMS ICARUS and HMS KENILWORTH CASTLE.
1944:
US bombers start daylight raids on Berlin from bases in Britain
1945:
Allied tanks and infantry, led by US First Army, drive into Cologne
1945:
VEEN, effective dates for battle honour begin (to 10 Mar 45)
» Download the iPhone/iPad Military History app! «