They shall grow not old, as we that are left grow old
853 Guests, 42 Users (1 Hidden)
niftynicolemarie, Petard, MARS, Infantryman2b, Sheep Dog AT, Danjanou, medicineman, quadrapiper, Master Seaman Robert, Chuk, Jim Seggie, MrsNorris, George Wallace, AlphaCharlieCharlie, SJantzi, LightFighter, DAA, Lumo2000, Colta, navygirl770, Rhodesian, Sparkplugs, JoshD87, RoyalDrew, Gshawn, ShadyBrah, Old Sweat, x80, kkwd, jpjohnsn, jollyjacktar, kratz, drbones, Fox87, tomahawk6, captloadie, d_edwards, B38890, mrjasonc, Gunshark, acen
Total Members: 44,991
Total Posts: 1,234,325
Total Topics: 66,919
Total Categories: 15
Total Boards: 120
The Lake Superior Scottish Regiment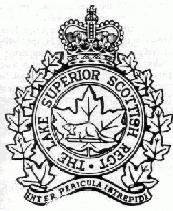 ---
Armorial Description
A maple leaf charged with a beaver, encircled by an annulus, inscribed THE LAKE SUPERIOR SCOTTISH REGIMENT and surmounted by the Crown; below a scroll inscribed INTER PERICULA INTREPIDI; on each side of the annulus, six maple leaves.
---
Official Abbreviation: Lake Sup Scot R

Motto: Inter Pericula Intrepidi (Fearless in the face of danger)
---
Battle Honours (34)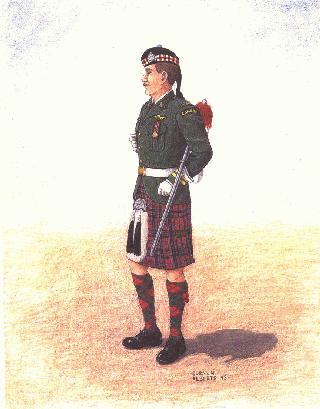 First World War
YPRES, 1915
YPRES, 1917
PASSCHENDAELE
Fustubert, 1915
AMIENS
MOUNT SORREL
Scarpe, 1918
SOMME, 1916
Drocourt-Queant
Flers-Courcelette
HINDENBURG LINE
Ancre Heights
Canal du Nord
Arras, 1917
Arras, 1918
CAMBRAI, 1918
VIMY, 1917
VALENCIENNES
HILL 70
France and Flanders, 1915-1918
Second World War
FALAISE
THE HOCHWALD
Falaise Road
Veen
The Laison
TWENTE CANAL
Chambois
FRIESOYTHE
THE SCHELDT
KUSTEN CANAL
THE LOWER MAAS
Bad Zwischenahn
THE RHINELAND
NORTH-WEST EUROPE, 1944-1945
---
Tartan: MacGillivary

Authorized March: The Highland Laddie

Regimental Headquarters:
The Armoury
317 Park Ave.
Thunder Bay, Ontario
P7B 1C7
---
Honourary Colonel: Colonel P.R. "Jerry" Cook,OStJ,CD
Honourary Lieutenant-Colonel: Lieutenant-Colonel Catherine Paterson,DStJ,DStL
Commanding Officer: Major Donald P.M. Strang,CD
Regimental Sergeant-Major: Master Warrant Officer David J. Coffey,CD
---
The Lake Superior Scottish Regiment perpetuates the following Regiments:

The Provisional Battalion of Rifles
96th District of Algoma Battalion of Rifles
96th Algoma Rifles
96th The Lake Superior Regiment
52nd, 94th and 141st Battaions, CEF
The Lake Superior Regiment (Motor)
---
Brief History
The Regiment was raised 30 Apr 1885 and designated The Provisional Battalion of Rifles at Port Arthur, Ontario. It was redesignated the 96th District of Algoma Battalion of Rifles 29 Apr 1887. On 3 Jul 1904 is was renamed the 96th Lake Superior Regiment and redesignated The Lake Superior Regiment 15 Mar 1920. 26 Jan 1943 it became The Lake Superior Regiment (Motor) and on 29 Jun 1949 it was granted approval to become "Scottish", being called The Lake Superior Scottish Regiment (Motor), and 11 Apr 1958 it adopted its present title, The Lake Superior Scottish Regiment. During World War I it sent drafts of over 400 soldiers each to the 8th and 28th Battalions, CEF, raised the 52nd, 94th, and 141st Battalions, the latter two being reinforcement Battalions for "The Fighting 52nd".
---
The LSSR's Colours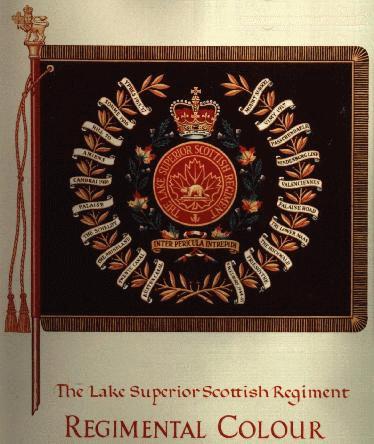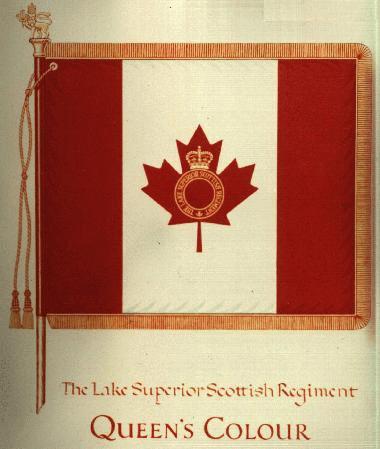 ---
Order of Precedence: 33
---
Options:
---
Go back to the Infantry Regiments page.
Go back to the Army home page.
August 27
1776:
Battle of Long Island, in present day Brooklyn, New York British forces under General William Howe defeat Americans under General George Washington.
1813:
Napoleon defeats the Austrians, Russians and Prussians at the Battle of Dresden.
1828:
The Russians defeat the Turks at Akhaltzikke.
1861:
U.S. Civil War: Union forces attack Cape Hatteras, North Carolina.
1896:
The shortest war in history (0902h - 0940h) between the United Kingdom and Zanzibar. Zanzibar surrenders.
1928:
Kellogg-Briang Pact: 15 nations (including Britain, France, Germany, Italy, Japan, USA - and later most members of the League of Nations) agree to renounce war as a means of settling international disputes; but agree there is no means of enforcing t
1944:
MONTECICCARDO, effective dates for battle honour begin (to 28 Aug 44)
1979:
An IRA bomb kills Lord Mountbatten and 3 others on holiday in Sligo, Republic of Ireland. Another near Warrenpoint, Northern Ireland kills 18 British soldiers.
» Download the iPhone/iPad Military History app! «