They shall grow not old, as we that are left grow old
674 Guests, 25 Users (4 Hidden)
Chris Pook, Sub-normal, stoker dave, milnews.ca, cavalryman, AmmoTech90, WR, Czech_pivo, GAP, garb811, captloadie, NavyShooter, Rifleman62, Strike, ChronicPainCorporal, MilEME09, LittleBlackDevil, WilliamPywog, kkwd, dangerboy, tree hugger
Total Members: 77,221
Total Posts: 1,495,246
Total Topics: 72,603
Total Categories: 13
Total Boards: 125
The Algonquin Regiment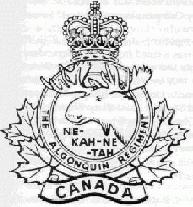 ---
Armorial Description
Within an annulus inscribed THE ALGONQUIN REGIMENT, the head of a bull moose, facing dexter; below the head of a bull moose, the motto NE-KAH-NE-TAH; supporting the annulus, on either side, two maple leaves; below the annulus, a scroll inscribed CANADA the whole surmounted by the Crown.
---
Official Abbreviation: ALQ R

Motto: Ne-Kah-Ne-Tah (We lead, others follow)
---
Battle Honours (28)
First World War
YPRES, 1915,'17
HINDENBURG LINE
FESTUBERT, 1915
Epehy
Arras, 1917
ST. UENTIN CANAL
Hill 70
BEAUREVOIR
SOMME, 1918
CAMBRAI, 1918
ST. QUENTIN
FRANCE AND FLANDERS, 1915, 1917-18
BAPAUME, 1918
Second World War
Falaise
THE LOWER MAAS
FALAISE ROAD
THE RHINELAND
The Laison
THE HOCHWALD
Chambois
VEEN
THE SEINE, 1944
KUSTEN CANAL
MOERKERKE
BAD ZWISCHENAHN
THE SHCELDT
North-West Europe, 1944-1945
Breskens Pocket
---
Order of Precedence: 32
---
Go back to the Infantry Regiments page.
Go back to the Army home page.
February 21
1796:
John Graves Simcoe proposed the "military street'' as a strategic route to help protect Upper Canada from American invasion. We know it as the longest street in the world, Toronto's Yonge Street, whose completion was announced today in history
1916:
The battle of Verdun begins
1919:
PPCLI presented with Wreath of Laurel by Lady Patricia Ramsey at Bramshot Camp, England
1945:
German resistance in Moyland Wood collapses after a week of fighting. The next objective for 1st Canadian Army will be the defences in the forests of the Hochwald.
1951:
A nine-man patrol from Princess Patricia's Canadian Light Infantry comes under fire in Korea. They are the first Canadian troops to be fired upon by the enemy in this United Nations "police action". No casualties are reported.
» Download the iPhone/iPad Military History app! «