They shall grow not old, as we that are left grow old
765 Guests, 20 Users (2 Hidden)
Bruce Monkhouse, mariomike, ChronicPainCorporal, Petard, dangerboy, michaelboland, Dolphin_Hunter, NavyShooter, mrcpu, stoker dave, MJP, GAP, MelvinMak, Drallib, Teager, kkwd, Hamish Seggie, MilEME09
Total Members: 77,219
Total Posts: 1,495,238
Total Topics: 72,603
Total Categories: 13
Total Boards: 125
The Royal Winnipeg Rifles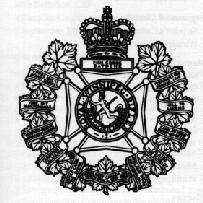 ---
Armorial Description
A maltese Cross with a tablet above surmounted by the Crown; on the centre of the Cross a medallion edged by an annulus inscribed ROYAL WINNIPEG RIFLES; on the medallion a naked black devil running on a scroll bearing the regimental motto HOSTI ACIE NOMINATI; in the devil's right hand a trident and offering a chalice with his left; encircling the Cross a wreath of maple leaves within a spiral riband scroll inscribed with the battle honours which are placed in pairs one over the other on each visible turning of the scroll; the battle honours are as follows: on the tablet below the Crown, FISH CREEK and BATOCHE; on the dexter side of the wreath from the top downward, YPRES, 1915,'17 and MOUNT SORREL; VIMY 1917 and PASSCHENDAELE; DROCOURT-QUEANT and NORMANDY LANDING; CARPIQUET and CALAIS, 1944; LEOPOLD CANAL and THE RHINE; on the sinister side FESTUBERT, 1915 and SOMME, 1916; HILL 70 and AMIENS; CANAL DU NORD and PUTOT-EN-BESSIN; FALAISE and THE SCHELDT; MOYLAND WOOD and N.W. EUROPE, 1944-45; on the portion of the battle honour scroll on the base of the wreath NORTH-WEST CANADA, 1885 and SOUTH AFRICA, 1899-1900.
---
Official Abbreviation: R Wpg Rif

Motto: Hosti Acie Nominati (Named by the enemy in battle)
---
Battle Honours (44)
Early History
FISH CREEK
NORTH-WEST CANADA, 1885
BATOCHE
SOUTH AFRICA, 1899,1900
First World War
YPRES, 1915,'17
Arleux
Gravenstafel
HILL 70
St. Julien
PASSCHENDAELE
FESTUBERT, 1915
AMIENS
MOUNT SORREL
Scarpe, 1918
SOMME, 1916
DROCOURT-QUEANT
Thiepval
Hindenburg Line
Ancre Heights
CANAL DU NORD
Arras, 1917,18
Pursuit to Mons
VIMY, 1917
France and Flanders, 1915-18
Second World War
NORMANDY LANDING
THE SCHELDT
PUTOT-EN-BESSIN
LEOPOLD CANAL
Caen
Breskens Pocket
CARPIQUET
The Rhineland
The Orne
Waal Flats
Bourguebus Ridge
MOYLAND WOOD
FALAISE
THE RHINE
The Laison
Emmerich-Hoch Elten
The Seine, 1944
Deventer
CALAIS, 1944
NORTH-WEST EUROPE, 1944-45
---
Order of Precedence: 28
---
Go back to the Infantry Regiments page.
Go back to the Army home page.
February 21
1796:
John Graves Simcoe proposed the "military street'' as a strategic route to help protect Upper Canada from American invasion. We know it as the longest street in the world, Toronto's Yonge Street, whose completion was announced today in history
1916:
The battle of Verdun begins
1919:
PPCLI presented with Wreath of Laurel by Lady Patricia Ramsey at Bramshot Camp, England
1945:
German resistance in Moyland Wood collapses after a week of fighting. The next objective for 1st Canadian Army will be the defences in the forests of the Hochwald.
1951:
A nine-man patrol from Princess Patricia's Canadian Light Infantry comes under fire in Korea. They are the first Canadian troops to be fired upon by the enemy in this United Nations "police action". No casualties are reported.
» Download the iPhone/iPad Military History app! «