They shall grow not old, as we that are left grow old
578 Guests, 12 Users (1 Hidden)
kkwd, Good2Golf, GeorgeBarr, Dawmac, Old Sweat, Spencer100, JRBond, hkhero2019, Dolphin_Hunter, Attie3, tree hugger
Total Members: 76,364
Total Posts: 1,482,365
Total Topics: 72,426
Total Categories: 13
Total Boards: 124
Les Fusiliers Mont-Royal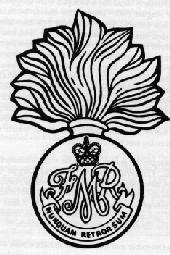 ---
Armorial Description
Upon the ball of a grenade with a flame of thirteen points, the letters FMR in script entwined, ensigned with the Crown; below, a scroll inscribed NUNQUAM RETRORSUM.
---
Official Abbreviation: Fus MR

Motto: Nunquam Retrorsum (Never retreat)
---
Battle Honours (29)
Early History
CANADA DU NORD-OUEST, 1885
First World War
YPRES, 1915, '17
COTE 70
FESTUBERT, 1915
AMIENS
SOMME, 1916
Linge Hindenburg
ARRAS, 1917, '18
PURSUITE MONS
Second World War
DIEPPE
l'Escaut
Crete de Bourguebus
Woensdrecht
SAINT-ANDRE-SUR-ORNE
BEVELAND SUD
CRETE DE VERRIERES -- TILLY-LA-CAMPAGNE
La Rhenanie
LE HOCHWALD
FALAISE
Route de la Falaise
Le Rhin
La Laison
GRONINGUE
Foret de la Londe
Oldenburg
DUNKERQUE, 1944
Nord-ouest de l'Europe, 1942, 1944-1945
ANVERS-CANAL DE TURNHOUT
---
Order of Precedence: 21
---
Go back to the Infantry Regiments page.
Go back to the Army home page.
September 18
1759:
Quebec surrendered to the British, following Wolfe's victory at the Plain of Abraham on 13 September, sounding the death knell for a French presence in Canada.
1931:
Japanese invade Manchuria, occupying Mukden, Changchun and Kirin (Mukden Incident)
1944:
SAN FORTUNATO, effective dates for battle honour begin (to 20 Sept 44)
1944:
Several "Canloan" officers serving with the 1st Air Landing Brigade are killed in the defense of the recently captured bridgehead at Arnheim, Holland.
» Download the iPhone/iPad Military History app! «